Integrated Application Of Industrial Robot
---
GRI has always been committed to the development and technological advancement of the industrial robot industry in Guangxi, and continuously formulates efficient, flexible and intelligent robot automation, smart factory and industrial 4.0 solutions based on customer demand.
Robot with automatic identification system and sand core online scanning system
The system integrates robots, automatic identification, optical three-dimensional scanning, computer image processing, roller conveyor lines and trays and other technologies. It can automatically identify the detected objects on the roller line, and drive the robot to perform optical three-dimensional automatic scanning and automatic splicing on the surface structures of non-stick and non-powdered objects, thereby automatically obtaining the complete three-dimensional point cloud data system of the object. The system has been put into use at the casting center of Yuchai Machinery Group Co., Ltd., solving the technical problems of online automatic detection of diesel large-scale sand cores, shortening the testing time, reducing manual rework, and improving the quality of detection.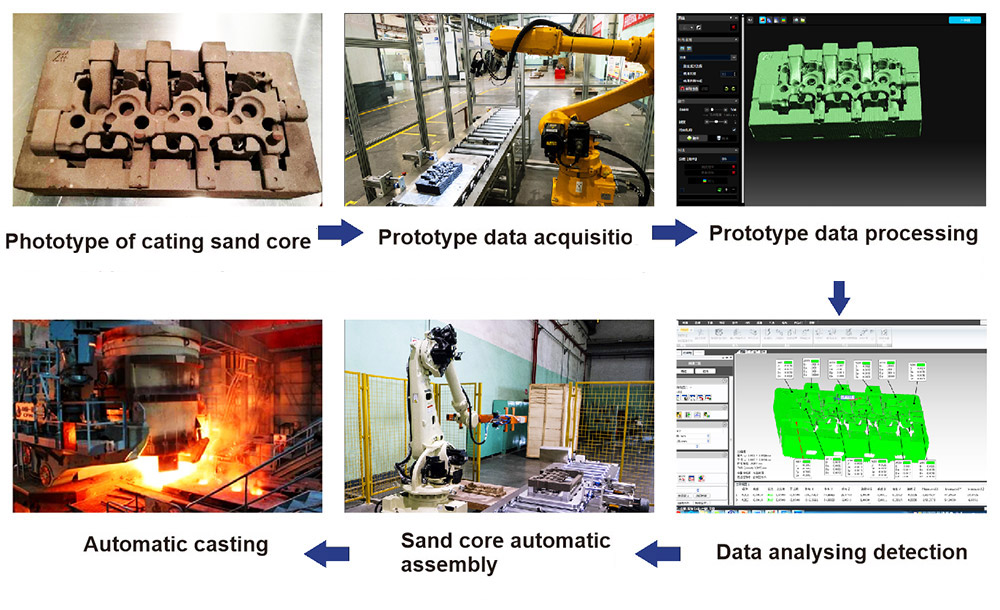 Robot production line with automatic identification system of color changing and spray-painting function
The spray-painting production line integrates some advanced technologies such as industrial robot, online automatic identification, automatic spray control, and automatic cleaning nozzles, it has realized automatic identification of different specifications and types of diesel engines on the production line, automatic color matching, and automatic switching of the robot spray path program for painting. The production line has been used in the five spray painting sections of Yuchai Machinery Group Co., Ltd., improving the coating quality, enabling the flexible production of the production line, reducing the spraying operations and supporting personnel, and having a very good intelligent manufacturing application demonstration effect.